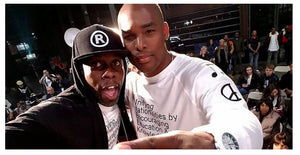 The Brand
Robert Collins, Co- Founder was born and raised in Romulus, Michigan. He is a savvy business man and designer with a competitive edge and stays true to his foundation. His focus on community and education has given him the drive to help create this brand and strives to make a difference in the community 
Kirk McClung, Co-Founder was born and raised in Long Beach, CA.  He is behind the creative and marketing aspects of the brand.
The two met playing basketball in various leagues in the city and turned there competition into business venture. He stays true to the brand and finds ways to implement it in various retailers and collaborations. 
The beginning of our story started with wanting to change the racial perception of young black men in society.  That transitioned into wanting to educate people about diversity.  In order to do that we needed a platform that was cool and would make people pay attention.  We created UNEEK COLLECTION, a lifestyle company based around fashion and music, but UNEEK spelled as an acronym for Unifying Nationalities by Encouraging Education & Knowledge.  We had no money, no formal college education, but a relentless determination to see this change thru.
The brand started from scratch and we wanted to create a company that gives back to the community. Giving opportunity to others and being a light and example . Our team is small but our heart and drive are big.
---